The entertainment media and mobile market is no doubt making a bomb blast in the United States. By means of smartphones that was anticipated to surpass the sales of basic mobile phones from last year's sales is an indication that many people will be using mobile applications when browsing the internet, listening to music, and more or less when they are in a lookout of entertaining themselves.

With the unstoppable innovation and rising of versatility of mobile phones, Toyota intends to take advantage of this trend through Entune. This is an innovative system bringing and combining some famous media applications jointly in a single easy to access car arrangement, with the use of smartphones as the link or connection.
Entune is offering its services and applications with several content sources such as Pandora, Bing, Open Table, MovieTickets, and Iheartradio and it is offered as part in the navigation tech service package in the Prius V, Tacoma, and Toyota Camry.
Indeed, with this Entune system, Toyota is considered battling with Ford's systems – Myford touch and Sync that were both premiered in 2007 through Microsoft's support. Further, Ford lately made an update of their system integrating the use of smartphones. On the other hand, Hyundai will have a launching of the "Blue Link" wherein its features include pay-to-play navigation support, speech-to-text messaging, geography fencing and speed alert (this support notifies guardians and parents in case their young children's car lost or away from a predetermined spot), and BL's real-time traffic info.
General Motors gives another means to idle some 1,300 workers when everything seems to be brighter for the auto industry. The automaker has announced it will be halting its production of Chevy Volt for five weeks because of low sales.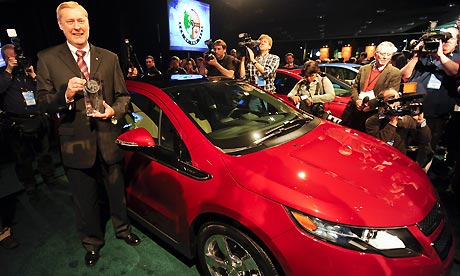 The shutdown will start from March 19 until April 23 and gave no indication the shutdown will be extended or not. It was relatively a disappointing move as electric cars have been on the showdown and have grabbed the limelight when increased sales and public interest showed signs of hopes.
It was in 2010 when the automaker got the public attention when it launched the Chevy Volt filled with glitters and grandeurs. The Chevy did not perform well in terms of sales and performance when just recently it incurred high fire risk issue. It was a blow dealt with poor sales results.
Chevy Volt is one of the hopefuls among electric cars dealing with the fuel-efficiency issues and auto enthusiasts have put high preference on it but Volts appeal seem to dwindle fast. Observers blamed it to its high price tag and consumers are quick to shift to cheaper brands of the same fuel-efficiency promise. Chevy Volt is placed at high $41,000 and a generous $7,500 tax credit did not boost its appeal.
Volt is not alone in poor sales performance and has Nissan Leaf for a company when the Japanese car only sold 1,154 units a little more down compared to Volts 1,203 units.  Both electric cars have high hopes for 2012 and still hoping to reap the fruit of their hard works in the next quarters of the 2012.
Auto Economist like Lacey Planche is quick to note that Volts poor sales reflect that consumer's interest and appeal for Volt's type of car is not that high and results in its failure to lure car enthusiasts to buy it. It could have account to poor marketing and fire risk issues.
Volt is still trying to dispose an oversupply of 6,000 units with 154 units per day that need to be sold. The figure is seen as a big challenge to GM thus the decision to stop production comes as a rescue. But GM is assuring people in the industry that the production will be temporary as GM and all electric car automakers are very hopeful that electric cars is the answer to the continuing gas price hike. GM is committed to make electric cars as the car for the future and it has no intention of backing off.
Automobile news is becoming a talk of the town nowadays keeping the road deserted to the latest car models. The car industry manifolds the breakthrough from installation of hand gadgets for driving convenience to modernizing the pinnacle of mechanical engines. If cellphones are competitive enough to dominate the advancement of electronic engineering, then automotive discipline also hurdles tougher in the market.
Forget about reading newsletter across car magazines and newspapers when you are just a click away from accessing the world of car encyclopedia in the internet. Rather than wasting your money from buying magazines from nearby bookstores and dumping them in the trash after stacking a pile of it at home, you can log-in through auto websites anytime at your convenience. Many websites offer updates in all aspects of automotive from designs, financial issue in exports, competitive markets of brands and latest speculations that you may not be aware of.
Leftlanenews.com previews anything that you want to know about car niche. Headlines capture attention of viewers to read recent reviews, photos and editorials. Basically, the site is a member of the Jumpstart Automotive Group as their fulfillment to a warm acknowledgment. It features car models that will generate the future of high-performance electric cars, exclusive updates of on-going car makers, videos and online shopping for car investors.
The main headlines of the site reveals TESLA Model X as of February 12 this year that startled viewers about its exterior as well as the engine's outstanding horsepower function. Still under observation and running test drives, the company gave a sneak peek preview in its overall speculations. So far, the body type displays a SUV or a crossover style. Since the engines are powered by battery, the package includes 60 kWh and 85 kWh ones. What's even more shocking is that the mileage speed of Model X can accelerate to 60 mph in less than 4.5 seconds. Doors are opened upward as it appears like you are riding in a back-to-the-future vehicle. However, critics raised concern about parking this vehicle in public parking space as it may require additional width limits.
In the same website content, another recent news unwrapping a phenomenal invention that is not commonly found in European's vehicle – steam-powered car. We may assume it odd but for this Swiss man by the name of Pascal Prokob, he considers it a true art. His idea came about when he decided to replace the passenger seat into a stove heater to keep him warm in the winter climate. A miniature chimney is installed to link the pipes out of the vehicle. Think twice before you even blame the weather for his new invention; just may be that could be the next trend in the future of automobiles in Europe someday.