General Motors gives another means to idle some 1,300 workers when everything seems to be brighter for the auto industry. The automaker has announced it will be halting its production of Chevy Volt for five weeks because of low sales.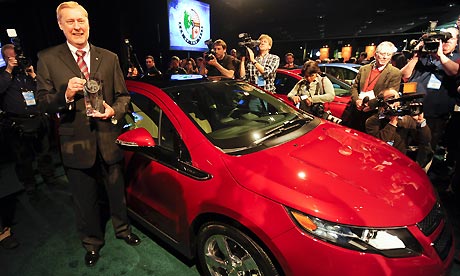 The shutdown will start from March 19 until April 23 and gave no indication the shutdown will be extended or not. It was relatively a disappointing move as electric cars have been on the showdown and have grabbed the limelight when increased sales and public interest showed signs of hopes.
It was in 2010 when the automaker got the public attention when it launched the Chevy Volt filled with glitters and grandeurs. The Chevy did not perform well in terms of sales and performance when just recently it incurred high fire risk issue. It was a blow dealt with poor sales results.
Chevy Volt is one of the hopefuls among electric cars dealing with the fuel-efficiency issues and auto enthusiasts have put high preference on it but Volts appeal seem to dwindle fast. Observers blamed it to its high price tag and consumers are quick to shift to cheaper brands of the same fuel-efficiency promise. Chevy Volt is placed at high $41,000 and a generous $7,500 tax credit did not boost its appeal.
Volt is not alone in poor sales performance and has Nissan Leaf for a company when the Japanese car only sold 1,154 units a little more down compared to Volts 1,203 units.  Both electric cars have high hopes for 2012 and still hoping to reap the fruit of their hard works in the next quarters of the 2012.
Auto Economist like Lacey Planche is quick to note that Volts poor sales reflect that consumer's interest and appeal for Volt's type of car is not that high and results in its failure to lure car enthusiasts to buy it. It could have account to poor marketing and fire risk issues.
Volt is still trying to dispose an oversupply of 6,000 units with 154 units per day that need to be sold. The figure is seen as a big challenge to GM thus the decision to stop production comes as a rescue. But GM is assuring people in the industry that the production will be temporary as GM and all electric car automakers are very hopeful that electric cars is the answer to the continuing gas price hike. GM is committed to make electric cars as the car for the future and it has no intention of backing off.