A proud and smiling Jose Manuel Barroso of Europe Union Commission posed for media reporters on the occasion of introducing Hiriko, the folding car to the public. The joint ventures of Massachusetts Institute of Technology and Denokinn Basque Investment Group is now set to produce the commercial version of Hiriko as the world's first folding car.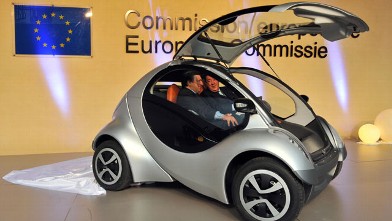 In an email for media, the project spokesman announced that only 20 units will be made available as initial trial production for the car beginning in the early months of 2013 in Spain particularly in areas of Victoria Gasteiz. The email also added that the price will be determined by the numbers of orders from individual customers and would have an initial price tag of not less than 12,500 Euros and will have an equivalent price of $16,000 to attract prospective private individuals.
Hiriko is a pod looking two- seater electric vehicle having a 4 wheel drive and runs about 100 kilometer range with a collapsible wheelbase and entry access from the upward swinging windshield. The Hiriko projects is a long-time vision of Prof. William J. Mitchell but after his death in 2010, Prof. Kent Lacson took over and continues the concept idea dedicated to minimizing city automobiles congestion and eliminating parking problems and winning over exhaust emissions. Hiriko is likened to a shopping cart that can be folded and use in maximized space both on and off the road.
Hiriko is also slated to be deployed in cities like Berlin, Barcelona, San Francisco and Hongkong and to other world cities interested in the car.  The car is now undergoing different processes of development headed by M.I.T student team including William Lark who acts as the car designer. The student team is creating an electric car with 3 wheel drive but at the same time will be adopting a bicycle mode to meet bike regulations in all European routes. Hiriko project as a visionary concept developed by Prof. Mitchell together with his student team uses a system that allows the concept to be used in other vehicles including the prototype scooters and bicycles.
Hiriko, the folding car of the future has been included in the National Design Museum and has regarded as the one that would revive the dying automotive-suppliers in the Basque region and would attract interest from tourism industry. The project is deemed as the car that will bring back Europe and also the world's interest in cars.